Thing 1: Welcome to 23 Digital Things at Charles Darwin University
Thing 1 will introduce you to the program, ask you to take a short digital skills analysis through All Aboard, and introduce yourself in the comments.
Familiarise yourself with the program:
You can read more about how the 23 Things program works in 'More Detail' below, then take a look at the activities under 'Try' and finally, share your thoughts and comments with us under 'Share'. Each week will follow this same format.
All Aboard is an Irish project that aims to empower learners, teachers, and anyone who uses technology to support their work, their study, or other aspects of living in a digital age.
The website includes a tool to discover your digital confidence profile. Click on the image below for more information and to take the profile assessment. This site is sometimes a little slow to load, but is worth the wait. Allow 30 – 40 minutes to complete the profile assessment.
It will be helpful to complete this activity now and at the end of the program to compare results.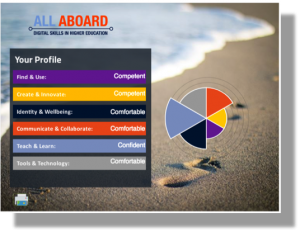 Co-designed by CDU staff and run by the Education Strategy Team, this program seeks to expose you to a range of digital tools for your personal and professional development as a researcher, academic, or professional. The aim is for you to choose a little time each week to expand your digital literacy.
Digital literacy is the ability to identify and use technology confidently, creatively and critically to effectively meet the demands and challenges of living, learning and working in a digital society.
http://www.decodingdigitalliteracy.org/digital-literacy.html
The program is structured to be presented across 23 weeks with a blog post each week introducing one Thing. Anyone can participate in 23 Digital Things by reading through the content and completing a task. We encourage participants to register a blog with us (as part of Thing 3) to share short blog posts about each of the 23 Things they complete. Blogging provides a space to share your learning and results of tasks, to interact with other participants to offer support and advice and a space for reflection. The blog also serves as a collection of artefacts to demonstrate your learning, and as evidence of Continuing Professional Development (CPD). Follow along online, join in and share with your own blog, come along to our face-to-face drop-in sessions across the CDU campuses, or join an online webinar.
Read through the following documents.
If you are not affiliated with Charles Darwin University, have a look to see if your own university or employer have social media guidelines or policies in place.
Where are you from? Share your location and reasons for joining this program in the comments below.
Describe one interesting thing you discovered from the Try activity.
Join the 23 Digital Things Group in Yammer if you are CDU staff.
References
Banner image: Photo by Rodion Kutsaev on Unsplash
Thing 1 was written by Sue Tucker and Wendy Taleo, 2019.